Scotland - Day 4 - Saturday
Today we head south back on our way home. We pick a route which will take us past Balmoral and decided to pay a visit to Royal Lochnagar Distillery. It is here where I look at my legs which have been aching somewhat... I have huge bruises all over them! Oh dear. The distillery is interesting and we get a free dram each :)
We have lunch in Braemar at the most unorganised fish and chip shop ever and then leave the Highlands. We start looking for a place to stay... :)
We start in Kinross where we see two hotels. One is full. One has rooms but they are expensive. The expensive place offers a room with a broken shower for 30 quid (well I thought she said 50 quid...) but anyway we say no (this was a big mistake)
Next we go to a seaside town called Kirkcaldy which is on the other side of the Forth from Edinburgh.
I will now write word for word what Amanda has written about this place:
Kirkcaldy (shit hole extraordinaire)

lots of shit

lots of full guest houses

the sea

this place is shit
So now you know... we think it's going to be a nice seaside town when we arrive - I mean look how many parking spaces it has: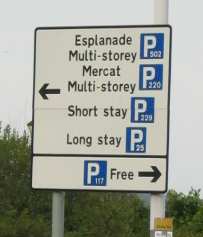 Along the seafront in nice seaside towns you have hotels, bars and things like that. This place has a B&Q on the seafront.
I am at this point knackered and pissed off. I drive out of this place in a random direction. We end up in a place called Aderbour, everywhere is full. We sit in the station car park and discuss our options. Hysteria kicks in. We phone big hotel type places after finding their numbers from directory enquires - everywhere is full for miles around. Take Travel Lodge, there were no rooms in the whole of Scotland on that night. There are however spaces in Glasgow Holiday Inn... lol I had to hang up at this point I was laughing so much!
We decided to head towards Edinburgh and then travel west. We cross the Forth and go to Tesco's. We see a Travel Inn and go and enquire. "No rooms", we ask if they have any broken rooms. They don't, but they wouldn't give us anyway, 'cause they have a 100% satisfaction guarantee. We let them know we'd be 110% satisfied with them if they'd give us a broken room... it's still a no go. We head off towards Stirling. We find another Travel Inn and enquire - FULL. Poo. However the nice lady behind the desk tries and cross sells us a room, the last one left in Scotland at their Glasgow North East Inn - we take it! So now we have a booking we go and eat in the Brewster's attatched to this Travel Inn.
Travel Inn rocks.
We find the Inn and sleep lots.
Today's Mileage: 234 miles!
[Listening to: Black Sabbath - Ironman]
Posted by Ed at September 2, 2003 8:40 PM | Trips |