Scotland - Day 3 - Friday
We had a big breakfast, well when I say we... Amanda had a big breakfast and I chickened out :-)
Sat on our table where a couple from the Shetlands and their young daughter, we had quite an interesting conversation with them about our respective trips and they suggested a place for us to have our lunch as we headed off up the side of Loch Ness. It's funny how you meet people and talk with them knowing full well that you will never meet them again!
After the breakfast we went and looked at the locks on the Caledonian Canal to try and work out exactly how they worked - yeah we're I'm sad like that you know.
We passed through a town called Fort Augustus where I find an Internet Cafe... so I update the blog :)
We then stopped for lunch at the place suggested by the folks from Shetland in Domadrochit... I've gone and forgotten the name of the cafe now... there goes their free advertising... I'm sure Amanda will fill you in with a comment :)
Then we set off and went through Inverness and visit some woodland. Apparently this is the home to the tallest tree in Britain.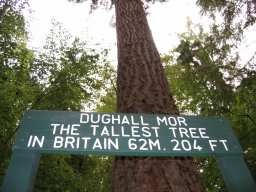 I decide that a need a pee so find the most secluded place I can find (ok that's a lie... it was right next to a path)... I'm in mid stream when Amanda calls out there's a dog coming... doh... the dog comes running towards me and starts to act all playful and bouncy... the owner drags the dog off me. The dog now seems more interested in where I'd marked my territory.
We head back off the Inverness to find somewhere to stay. After some argument as to the best place to look for hotels we find a place that is within our budget and more importanly had rooms. We stayed at the Brae Ness Hotel which is close to the town centre for the respectable price of £64, this included breakfast.
For food in the evening we ate in Palio's which is a pizza resturant. On the way back we went for a romantic walk along the River Ness across a bouncy suspension bridge. We also note that Inverness is full of churches. I think down the riverside we counted 8 or something. When crossing back across the Ness on another bouncy bridge we decided to lock step with the guy in front of us... this causes the bridge to bounce with amazing vigour... this wouldn't be eventful if it wasn't for the couple getting close to each other in the middle... tee hee. I think they thought the Earth had moved (groan)
Today's Mileage: 101 miles
[Listening to: Billy Fury - In Thoughts Of You]
Posted by Ed at September 2, 2003 8:39 PM | Trips |