Floating car!
Heh, some people have waaay too much time on their hands...
I've just been looking at The Register, as you do and found this... it's from nearly a month ago now, so everyone's probably seen it already!
Here's a link to it on Google Local (so you don't need Google Earth to view it...)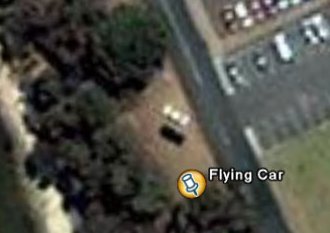 I think I'll stick with it being a black car parked next to white car in a lucky position that it'd be in the place of the shadow projected by the flying car when the photo was taken.
Juding by the size of the Earth, I bet if you were sad enough you'd be able to find more examples of these :-)
Posted by Ed at February 20, 2006 4:24 PM | Ramble |