Scotland - Day 1 - Wednesday
We leave Halifax at 11.30am and arrive in Bonnie Scotland at 2.15pm.
In a true for-the-blog-I-need-to-do fashion we take a photo of the Welcome to Scotland sign.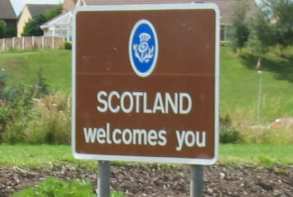 This actually involved us entering Scotland and coming back to England on a number of occassions as we were having camera issues.
We had some tea and coffee at something famous in Gretna. Then we set off towards New Larnark to look at the buildings and some waterfalls called the Falls of Clyde, the tallest waterfalls in Britain don't you know?...
We head off Glasgow way in search of somewhere to sleep. I realise that we will hit rush hour around Glasgow and sure enough we get stuck on some motorway (M74?) along with loads of other commuters. Doesn't matter though, 'cause the traffic jam will allow us to miss the rush hour :D. We follow some signs to some hotels... The Marriott and the Holiday Inn.... after finding somewhere to park we set ourselves a budget of £50 and wander into the Marriott. "Crap" we think as we see posh lightfittings and stuff... oh and the men in suits everywhere was slightly daunting... £150... Doh!
Now comes the Holiday Inn... £99... wrong.
We leave Glasgow and end up in a place called Kirkintilloch. We stumble on Smith's Hotel and cross our fingers. £70, is on the tarrif board. We decide we can't be arsed anymore and decide to give it a shot. After them working out that we could fit in somewhere we get told that it'll be £60 unfortuanly... bargain we think :) The room is one of their 'funky' ones apparantly.
It's in the centre of the building so has no proper windows. Instead it has some frosted windows that lead onto some dead space in the hotel. If you open the window you can see through into another bed room through their odd window... interesting...
We order food and it arrives... maaaan is there a lot of it! We both eat until we are too full to eat anymore!
Then we sleep lots. Today's Mileage = 260 miles
[Listening to: Alanis Morissette - Ironic]
Posted by Ed at August 31, 2003 9:27 PM | Trips |