Internet Explorer 7 Beta 2 Preview!
Microsoft has just realeased it's IE7 beta 2, and much as I hate to say it, it seems kinda funky. It's got tabbed browsing support (although it's crap like Firefox in that I've not found a way of making the tabs windows within the main one (MDI style)).
The RSS reading feature is nice and sleek. And to be honsest it looks in general - the font rendering is brilliant!
My blog looks great in it... although it seems to think the post on the Royal Mail being Poo is a phishing site... hmmm... there's a button to click to tell Microsoft that it isn't though, with is nice.
It also thinks that I need to download the "QuickTimeCheck Scriptable Object" to view my blog to it's full potential - which I'm not terribly convinced about! I might have a look into that... :-/
Another feature I think could be useful is a nice tool called Quick Tabs, which allows you to view all the opened tabs at once as little thumbnails - handy if you've a lot of tabs open on a subject but you can't remember what the title of the page was you wanted to look at.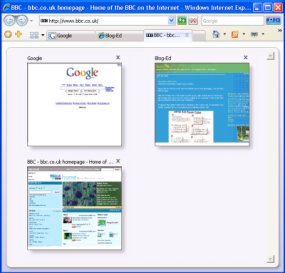 It's apparantly got transparent PNG support as well - although I haven't gone on a mission to find a site which uses them to check it out fully.
All in all a big improvement over IE6. Go and check it out for yourself if you like - over at Microsoft's site.
Posted by Ed at February 1, 2006 5:08 PM | Geek |