What a load of balls!
I saw the Sony BRAVIA advert last night for the first time in the pub. It's a truly amazing advert - basically they poured quarter of a million bouncy balls down a San Fransisco street and filmed them!
There was much debate in the pub at the time whether the balls were real or a figment of a computer's imagination... the balls were indeed real!
Oh look... I've fallen for the blog fodder advertising jobby! Like they weren't obvious with what they were doing...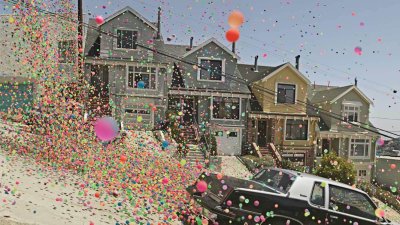 The songs quite cool too - it's called Heartbeats and is sung by José González, although it was origianlly written by The Knife.
One night of magic rush
the start a simple touch
one night to push and scream
and then relief
ten days of perfect tunes
the colors red and blue
we had a promise made
we were in love
to call for hands of above
to lean on
wouldn't be good enough for me,
no to call for hands of above
to lean on
wouldn't be good enough
Posted by Ed at November 7, 2005 9:24 PM | Ramble |