Texas
Last night Sarah, John, Brian and I (along with a concert hall full of other people who I don't know) went to see Texas live in concert.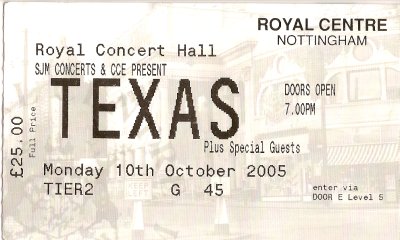 It was rather cool and we got good seats - sat right at the front of the second tier so there could be noone who could get in the way of our view of the band. They opened with "I don't want a lover" and then played pretty much all of their hits (as you'd like to kinda would have expected) - it did get to one stage where we were wondering what they'd actually close the night with seeing as we'd covered most of the hits! After narrowing down to a short list, these were all played one after the other and the winner was "Say What You Want". They did quite a good cover of Scissor Sisters "Take Your Mama Out" too, which I thought was amusing.
And there we go, that was the gig. My gig reviews are almost as awful as my movie reviews it seems!
Posted by Ed at October 11, 2005 9:18 PM | Ramble |