Be careful when making signs...
It's been said before that I'm somewhat padantic about things... well when I saw this sign out in town... the piss had to be taken...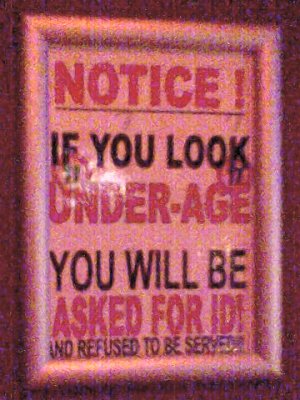 Notice!
If you look under-age
you will be
asked for ID!
and refused to be served!!!
So, how does that work? Does it mean that I look youthful at 23. They ask for my ID. I show it to them and then they will refuse to serve me anyway? Don't get me started on how crappy the design of the sign looks either. Underlined heading. Ewwww. So wrong.
Reminds me a little of when you go to a foreign place and they've made a sign or a menu for English speaking people and it's all wrong and makes no sense! For free tasty 'iced-scream' I'd have checked through the menu for them, before they had it printed and looked like tits.
Posted by Ed at May 2, 2005 2:22 PM | Ramble |