Oh, it's a reet bodge job!
So... in the pictures from my life... here be the rotten frame which the shower stuff is fastened to, one of the major reasons why it was being replaced...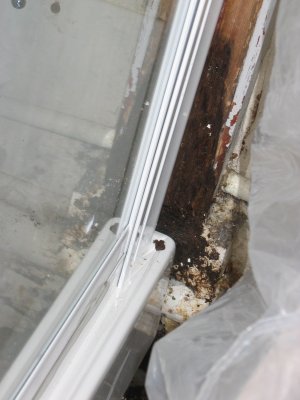 The shower and surrond you see in the photo is the new one... ie the rotten wood appears to be staying. The fake plastic tile thing is going over the old fake plastic tile thing, instead of it being removed and the frame is staying it all it's not square at all fashion. Nice... still it should be an improvement I guess, and hopefully the surrond will be straight and therefore not leak!
So, in the last few days I've posted pictures from my life that I thought might be interesting to you... it's been a running theme in the blogging community recently to ask the readers to ask for photos of my life that they might want to see.
For good ideas of things to ask for... see the top of GreenDezire's September archive.
Posted by Ed at October 27, 2004 2:54 PM | Ramble |