Meltdown Report - Day 1 - Thursday
Well here is the Meltdown report that you have all been waiting for (especially Jonny :))
Well I was up at some silly time on this day in an aim to arrive in Lancaster at 10am.
The trip up to Lancaster was pretty uneventful - although I hear that the trip before I got collected was quite eventful... like missing my junction and going 10 miles to far on to the Pennines.
On the way up we got a few calls... such as "the venue is a quagmire". We decide that we will wait until we get there and assess the situation.
We arrive... 1st thought is that there are no crossbars in the tent... flying is going to be interesting - to say the least.
And yes the place is a dark minging hole, with no flooring - just mud.
Three of us set off to find a wood selling place. We find a huuuge Timber Centre in the middle of what seems like a housing estate. We precede to find out costs of different thicknesses of plywood. We settle for 9mm ply, and order 50 sheets - much to the amusement of the staff (that's like £358.37 of wood!) We go and try to get it from the warehouse...
"We only have 26 sheets"
"Ah... but we've already paid for it"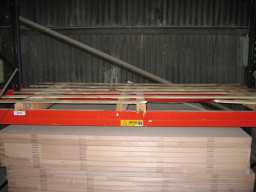 "Huh... you shouldn't do it that way around"
"Well we have, we aren't well in the ways of Timber Centres"
"I'll have a look for some more sheets"
30 mins later...
"Nah, can't find any"
We wander back to the office... to be told that there definitely is some wood... we go back to the man and tell him that there is some and he must be blind. We then all go to the warehouse for a look and can't find any... so we then all pay a visit to the office and get the man in the office who says there is some to find it for us.
30 mins later...
A pallet of wood appears and we start to load it into the van. Eventually, we set off with our cargo of wood... so that only took 3 hours to do.
Well we floor the tent and unload and do stuff like that. We give up working at about 10.30pm after realising that we are hungry.
We go into Lancaster for a curry.
We find a curry place and order a takeaway.
"We don't have any implements to eat it with."
"I give you spoons"
The above is repeated numerous times...
I run away at this time to find a phone (Lancaster campus us quite crap for phones - well the phones I had found at the time were - they use some silly phonecard thing) so I can call Amanda to talk about the stresses of the day.
We get given complementary beers and a 10% discount in the curry place - this is cool.
Now it's time to find out where we are staying, so we drive back to campus and drive around until we find our "college" - "college!?", it's a goddamn block of flats... you hear me? flats... college is wrong...
The flat we arrive in is rather minging - replace minging with shithole, I feel for anyone who has to live in Hawkshead block in Furness College...
We get out the curry... oh look no spoons - what are we going to eat with.
Time for ingenious ideas...
Key fobs
2p coins
Lids of the food cartons
Fingers
Drinking it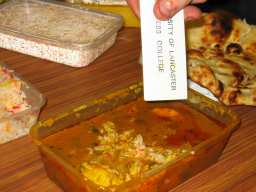 What a disaster. I'm hungry and can't really eat it!
Now starts the Lee humour (Lee is one of our crew) :)
We are sitting in the kitchen when we hear a cry "Shit, I've locked my key and my stuff in my room."
"Oh well, we've got keys the the whole block, find yourself another room and we'll get the porter to get your stuff in the morning"
We give Lee the bag of keys and we all go to bed. Then we hear "Oh shiiiit, I've done it again"
Now Lee has locked all the keys to the remaining rooms in his room... doh! :) Oh well. We eventually get off to bed at 2.30am.
[Listening to: Counting Crows - Raining in Baltimore]
Posted by Ed at August 19, 2003 7:04 PM | Trips |